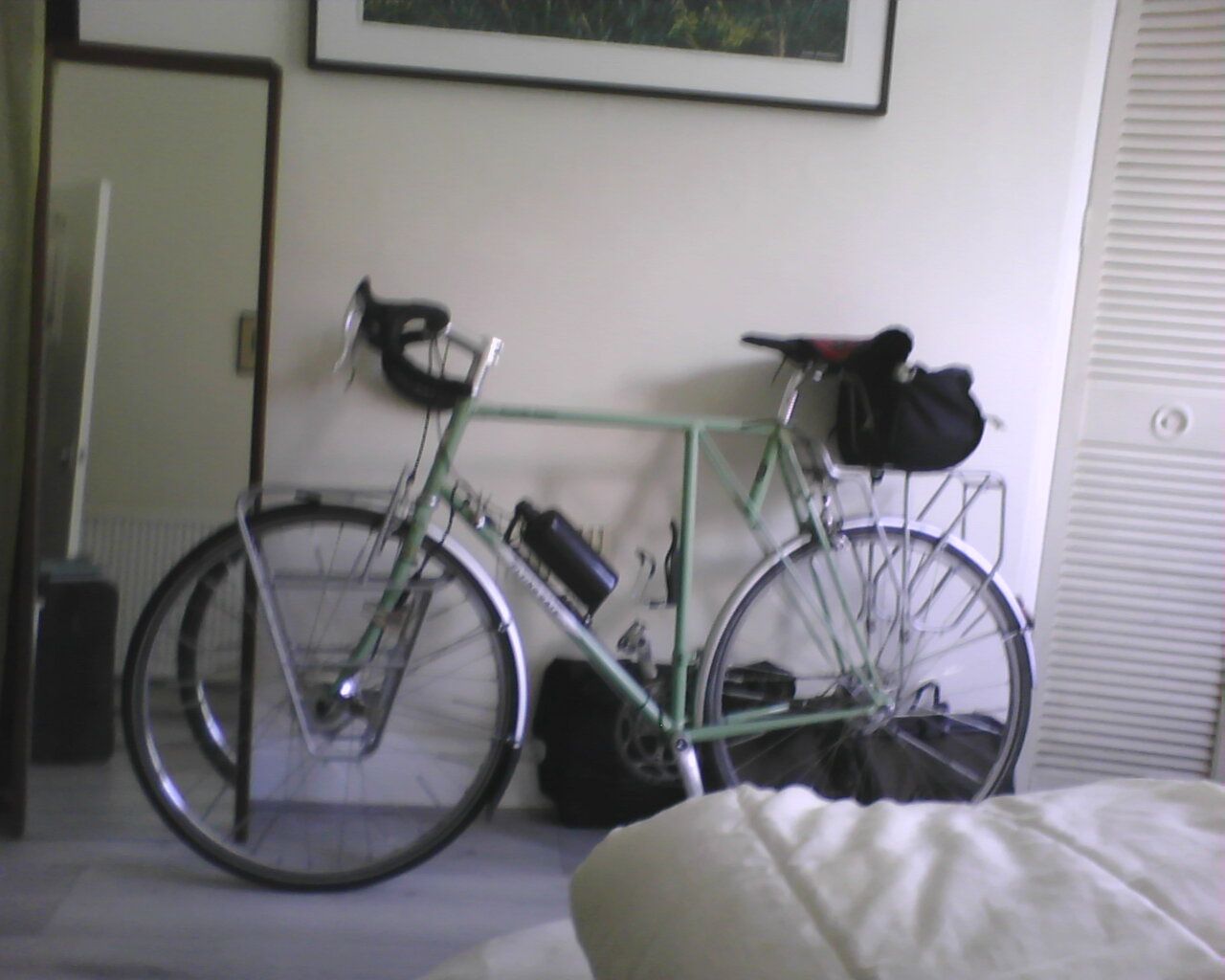 The Invincible Summer from the ancient netbook webcam
† Au milieu de l'hiver, j'apprenais enfin q'il y avait en moi un été invincible. — Albert Camus
Feels like it has been a long winter. The Invincible Summer†, propped against the bedroom wall, yearns silently for the open road. Miki will spend the next weeks in Japan. So I'm taking to the road with the drafts for my book, Post Atomic. I'll be visiting family and friends, and meeting new people along the way. We were Couchsurfing hosts for years; this is my introduction to the Warm Showers network. And there is always le camping.
As Julian likes to say, "This is not for charity" — unless you count self-compassion. I am not "challenging myself"; there is nothing here to prove. It is just slow travel, a mixture of holiday and work. Rainy weather will likely find me writing in a café or library. The itinerary can and should change. As in life, it would be a pity not to find people or places who change your plans. The daily distances I envisage are modest, and may shrink. Not much point to scorching through a long list of places.
A revolution in France
Consulting friends and family has reversed my original direction of travel. (My itinerary crystallised yesterday when someone I met at the Extinction Rebellion event in Westminster offered me a bed en route to Portsmouth.)
I leave from my front door on Saturday and sail from Portsmouth to Saint-Malo on the last day of April. A week from the coast should take me past La Grande Raisandière and get me to Bourbon-Lancy in Burgundy, where my sister and brother-in-law have retired. Simon in Switzerland offers to meet me for lunch in Lausanne or Basel, only a few days east of there. The Rhine is an easy route north, bearing off to the Eiffel to visit Kai & Anne. A bike trail from Hillesheim leads to Aachen, and Lut and Jan in the Low Countries. Returning to Harwich I hope to have enough miles still in my legs to pay visits in Suffolk and Essex.
Well, it's a plan, and it will do for a start.
Equipment: the Flying Gate (pictured) was built precisely for this kind of journey. I am writing this now on an ancient Intel netbook, with 4GB of RAM and a 6GB drive. The blurry picture of the bike was taken with its 1.3 megapixel webcam. It is the same machine I began writing the code.kx.com website on at Arthur Whitney's beach house in 2016. It pleases me that something so simple can do the job. And this blog post was composed on it, so perhaps I shall post notes from time to time.
See you down the road.
Going walkabout
In his interview† with the songwriter, Monte Hellman, director of 1970s cult classic Two-Lane Blacktop, spoke of Kris Kristofferson's song "Me & Bobby McGee" as one of his favourite characters in the film.
Kristofferson spoke thoughtfully of wanting to capture some of the feeling of Jack Kerouac's On The Road, and acknowledging that the road's freedoms come at a cost.
Freedom's just another word
For nothing left to lose
In The Songlines, Bruce Chatwin argues that humans are built for walking, and also need to take off and go walkabout for our mental health.
Got to get away from the family
Though they say they love me
Got to find myself new company
Got to do that just for me.
"Away From The Family" — Marian Segal
The argument is supported by David Graeber and David Wengrow in The Dawn of Everything: DNA analysis refutes Rousseau's picture of our remote ancestors as hunter-foragers living in closely-related family groups. It seems prehistoric humans were no better pleased to live with their birth families than we are; and they travelled more and farther than we do.
All that said, stories inspire my pilgrim heart. The Hobbit taught me that adventures begin at my front door, so I start there. Victor Canning's Mr Finchley Discovers His England taught me to discover my own country on foot and by bicycle. At sixteen I set off on a 3-speed bike for Venice to find Ezra Pound; in Paris I met an American woman in her fifties who spent her winters doing casual work in New York and her summers in youth hostels in Europe. This seemed to me a good way to travel.
The lode star of travel writing is for me Laurie Lee's As I Walked Out One Midsummer Morning, in which he recounts sailing to Spain in the late 1930s, landing without money, maps or Spanish, and walking through the land learning the language and playing his fiddle in return for hospitality.
Walkabout extends a short list I once made of reasons to travel.
To get something: spices from India; cigarettes from the corner shop; sun, sea and sand on the Costa Brava
To see somebody: a prospective customer; the Pope; your grannie
Exploration: to find the North-West passage; to find your way around a new neighbourhood
Pilgrimage
Walkabout
Pilgrimage is the model for adventure travel. You heard a story and want to see for yourself. Christ lived in Palestine. Pompeii was buried by a volcano. Movie stars live in Hollywood. And you hope that what you encounter will change you in some way.
Alors, des semaines de pèlerinage.