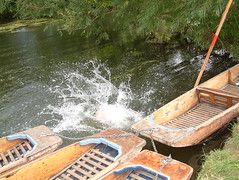 In we go
It's summer at last, so we're back in Cambridge for this year's picnic in Grantchester Meadows. Organised this year thanks to Ann Schneider-Cullen, which means we get to meet her daughters Renée and Lise and grandson Max. Ray & Wendy Cannon were agile in a canoe, as were Clara & Peter and their guest from Colombia. Ruth Eisenhart joined us again, and we met Ann's friend Guðrún Sigríður Haraldsdóttir.
Paul Grosvenor brought daughters Abbie & Amy; the latter is suddenly a young woman since we last saw her. How fast they grow. Paul is now a seasoned punter and known round Newnham Mill Pond as 'Pole' Grosvenor.
Safire Edegawa had her mother Akiko along, and her uncle Kazu and his girlfriend Eri, both visiting from Japan. He discovered he was able to punt a bit; otherwise Miki propelled them the 4 miles up and downstream, wiry strength in her tiny frame.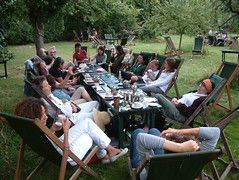 At the Orchard tea garden, Grantchester
Star punter was undoubtedly Cambridge grad Seb Merrick, who not only broke his pole, but successfully spliced it with with cord he unaccountably had with him. Impressed us mightily, and also his wife Aysegül, on the river at Cambridge – for the first time? Watch that wake there, Seb.
This year the swimmers were Seb, me and Miki, who was showing off her new Italian bikini. We had a punter for each boat but, unless we're suddenly ageing faster, overloaded the boats: Miki & I thought we'd worked rather harder than we wished to.
Paul took pictures.
So did Aysegül:
Life doesn't seem to get any slower. Last year I'd flown in from Finland the day before our party, and we left the next morning for a wedding in Scotland. This year I'd arrived home from Denmark in the small hours the day before, and flew back at dawn the following day after 3 hours sleep. A short afternoon in the Insight office in Hellebæk, followed by the walk through the forest back to Elsinore.
It's now Tuesday morning. I've had a square meal, a solid night's sleep and am in front of my keyboard; beyond the screen, the solid blues of the Oresund and a high clear sky sandwich cargo ships and the low hills of Skåne.
Der findes ej man
så glad som jag
på hela Sveriges kyst.

from Memories of Snoose Boulevard: Songs of the Scandinavian Americans by Ann-Charlotte Harvey (Olle i Skrattehult Project, 1974)